by Kirstie Pickering
California is one of the USA's most popular states to visit, whether for business or pleasure. BAI explores business aviation in the region and looks at what airports, FBOs and facilities are on offer locally for business aviation.
Famed for its golden coastline, glamorous lifestyle and Hollywood hills, California has long been a favored destination for business jet passengers. The state sits strong within the business aviation industry, having fixed-based operations at all of its 35 commercial airports and the majority of its 200+ public-use airfields.
For business jet passengers arriving from cities outside of the USA, there are 15 airports in California with customs services. Special arrangements are not required when entering California from any other US state or city. 
One of the busiest business and general aviation airports in the world is Van Nuys, located in the Los Angeles area.
Popular hubs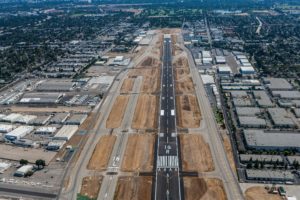 Van Nuys Airport is one of two airports owned and operated by Los Angeles World Airports (LAWA), and is located in the San Fernando Valley region in Los Angeles.
"August is the most consistently busy month every year," comments Flora Margheritis, airport manager at Van Nuys Airport. "California offers exceptional tourism and weather, a beautiful landscape and, with Hollywood, the best of entertainment experiences.
"Over the next 5-10 years, business aviation will play a bigger role in serving smaller communities, with the uncertainty of the Department of Transportation Essential Air Service (EAS) program in the future." This governmental program is in place to ensure that smaller communities maintain commercial air service.
Sacramento McClellan Airport (KMCC), situated within the McClellan Business Park six miles north of Sacramento itself, is another airport option. Processing approximately 104 incoming and outgoing flights every week, the hub has its on-site FBO, McClellan Jet Services, to add to its business aviation offering. 
"Flights here are predominantly from cities within a 300-800 mile [480-1,290km] range," says Scott Owens, executive vice president and chief operating officer at Sacramento McClellan Airport. "Approximately 30% of our business aviation customers come from cities further away than this.
"Compared with Sacramento, the Bay Area just to the west of KMCC and the Southern California/Los Angeles area are more active business aviation areas by far. The Sacramento area is a light jet and turboprop market, although our FBO acts as a stop for many larger jets traveling from the eastern and Midwestern US cities. 
"That being said, the Sacramento area is well poised for growth into the next five years, as it is growing substantially due to large-scale improvements to the downtown area and the fact that the cost of living and doing business is much less than in the neighboring Bay Area."
Operators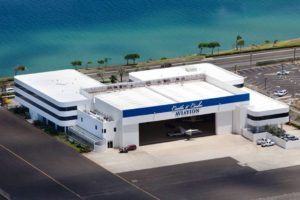 Many major global FBOs operate in California, proving the state's importance as a business aviation destination.
Castle & Cooke Aviation is a full-service FBO based at Van Nuys Airport. Its primary services include fueling, ground handling, parking and hangar storage, and all concierge services required by passengers and crew. The company can organize catering, hotels and ground transportation. US Customs clearance can also now be arranged for its internationally arriving customers.
Tony Marlow, vice president of aviation operations and business development at Castle & Cooke Aviation, says, "We are busy most of the time as Van Nuys is the busiest business aviation airport hub on the West Coast. The airport and our facility are used by all sorts of organizations and therefore traffic is steady all the time. Just like Teterboro Airport (TEB) on the East Coast, we have no airline service into the airport, so we are ideally suited to catering for business aviation operations.
"With a diverse mix of business and private owners, we have airplanes coming and going from all over the country and, really, all around the world. That said, up and down the West Coast, Bay Area, Seattle, San Diego are popular short hops, and Las Vegas is a frequent city pair. The New York metropolitan area is very frequent too, and Mexico and Hawaii are popular at certain times of year. Even Asia and Australia are not unheard of for us."
Desert Jet is a group of aircraft charter, maintenance and aircraft handling companies based in Jacqueline Cochran Regional Airport (KTRM), Palm Springs. Its private executive FBO, Desert Jet Center, is the only
IS-BAH-certified FBO in the valley, staffed by NATA Safety 1st trained professionals. Its services include
ground handling, ramp parking, fuel, hangar and mobile aircraft detailing services.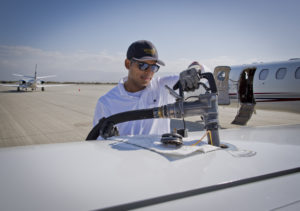 "Barring unforeseen outside influence, the business aviation market in California is booming and will continue to do so," says Chris Little, chief marketing officer at Desert Jet. "Confidence is high and sales of pre-owned and new aircraft are rising, which is a positive incline after so many years of slumped acquisition numbers. The level of charter activity has also increased, with a greater number of charter customers flying more. We anticipate the next five years will continue to climb upwardly with steady growth. 
"KTRM could also see significant changes to its landscape in the coming years. Growth to the area
and an increased level of activity at the airport will call for a greater need to have an aircraft
traffic control tower, especially in peak season. With KTRM's 8,500ft [2,590m] runway, which
is 117ft [36m] below sea level, the arrival of very large jets is anticipated to increase, creating the need for a larger ramp and upgrades to the fire equipment to support the growth of arriving aircraft."
KaiserAir Oakland FBO is an option for those flying into the San Francisco region, offering customers 24/7 access to the city's downtown area and Silicon Valley. Its facilities include US Customs & Border Patrol service with advanced notice, and 24-hour gourmet catering. It is also a Ronald Reagan Washington National Airport (DCA) access point. Created by the Department of Homeland Security in the wake of September 11, the DCA Access Standard Security Program (DASSP) allows business and corporate aircraft operators that have met the program requirements to use DCAs. KaiserAir is one of only a handful of independent FBOs in California to receive this qualification from the Transportation Security Administration (TSA).
"Oakland is known for its professional sports teams, including the Oakland Athletics, Oakland Raiders and Golden State Warriors, but it has so much more to offer," says Gregg Rorabaugh, KaiserAir's vice president, ground services and administration. "Located a quick 25-minute drive from downtown San Francisco, Oakland International Airport is a great location to begin a stay in the San Francisco Bay area.
"Oakland and the East Bay have natural landscapes in which to relax and reconnect with nature. Within minutes of anywhere in Oakland, you will find hundreds of miles of peaceful trails, with many offering spectacular views of the San Francisco Bay to the west and the East Bay Hills to the east. Within the boundaries of Oakland, the 450-acre Joaquin Miller Park is one of the most popular spaces."
Getting in
Everyone flying into the USA is required to provide their personal information for the APIS – the Advance Passenger Information System established by the US Customs and Border Protection (CBP). A passenger's full name, gender, date of birth and nationality are just some of the required details. For non-US charter operators, this must be filed prior to departing to the USA and before notifying the US CBP of a customs clearance request. Filing APIS does not satisfy the requirement to notify US CBP.
Passengers flying from some countries also need to apply for a TSA waiver. Information required to obtain a TSA waiver includes operator, crew and passenger details, aircraft information and projected itinerary. If any information is missing, operators will not be able to complete a TSA waiver request online. When applying for a 90-day TSA waiver, it is essential to note the start and end dates for it. 
The TSA waiver review process includes an evaluation of the aircraft, crew, passengers and purpose of flight. A flight itinerary must be provided for fleet and single trip waivers. The first entry and last exit into or out of the USA is considered APIS-controlled, and a TSA waiver is not required. Domestic movement by non-US charter flights may require a TSA waiver, depending on aircraft weight and country of registration. 
"If overflying US airspace and operating to/from countries considered portal countries – such as Canada and Mexico – and the jet is under 100,000 lb [45,360kg], you don't need a TSA waiver," says Sarah Wolf, senior manager, security and facilitation, at NBAA. "Special interest countries will require approval to operate to, from and over the USA. The TSA waiver form is online and needs to be completed in advance. It takes up to five days to process, and it's worthwhile to note that the TSA doesn't work on weekends.
"We would recommend new operators work with trip support planners to ensure each requirement is met and all passenger documentation is correct. It is important that all passengers aboard the jet have visas in place, and operators can apply to join the visa waiver program to streamline the entire process."
Travelers seeking to enter the USA for business, tourism or in transit for less than 90 days may be eligible to travel to the USA without a visa under the Visa Waiver Program (VWP) if they meet specific requirements. The VWP cannot be used if the purpose of travel is to study for credit, employment, work as foreign press, radio, film, journalists, or other information media, or to take up permanent residence in the USA.
Tourism
Once you are safely in California, there is much to do and see. Aside from the business and technology hub that is San Francisco, globally renowned events see a flurry of business jets descending on the state every year.
"The busiest times of year are primarily due to the activities and events that take place in various locations throughout the greater Palm Springs area," says Desert Jet's Chris Little. "Desert Jet Center experiences large numbers of arrivals for the Coachella Music and Arts Festival, PGA CareerBuilder Challenge, BNP Paribas Tennis Tournament, and the Horses in the Sun equestrian event. We have seen as many as 40-50 arrivals and departures during these big events.
"California's diversity in culture, climate, landscape, beaches, mountains, deserts, cities, and everything in between, offers visitors everything they could want, and more. The Golden State, with its perfect weather almost year-round and spectacular sites, with the Bay Area, Hollywood, Pebble Beach, breathtaking coastal views, wineries and resorts, and a multitude of things to do in sports, sun, ski, outdoor concerts and museums, will leave no shortage of activities or adventures to be experienced. In the greater Palm Springs area, there are also around 126 golf courses," Little adds.
---
Airports
San Francisco
Airport: Sacramento McClellan Airport
FBOs: McClellan Jet Services
Facilities: Repairs, pilot lounge, on-site lodging
Runway: 10,599ft (3,231m)
Los Angeles
Airport: Van Nuys Airport
FBOs: Signature Flight Support, Clay Lacy Aviation, Castle & Cooke Aviation, Jet Aviation
Facilities: Aircraft exterior and interior cleaning, executive terminal, crew lounge
Runway: 8,001ft (2,439m)
San Diego
Airport: McClellan-Palomar Airport
FBOs: Atlantic Aviation, Western Flight, Magellan Aviation, Jet Source
Facilities: Executive terminal, pet-friendly location, luxury lounge
Runway: 4,897ft (1,493m)
---
Sightseeing
Alcatraz Island, San Francisco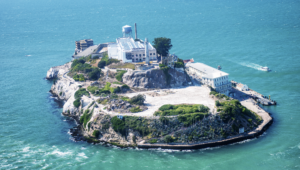 A short ferry journey from the city's shore, enjoy a tour around Alcatraz Island for an insight into its history and a peek into the infamous abandoned prison.
Golden Gate Bridge, San Francisco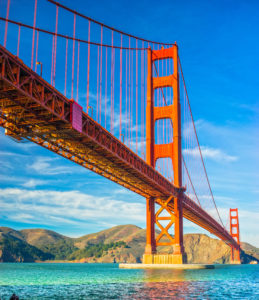 The spot that springs to mind when thinking of San Francisco, the Golden Gate Bridge is essential to tick off on the tourist to-do list.
Yosemite National Park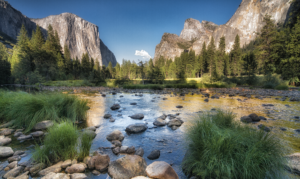 At 1,200 square miles (3,100km2), Yosemite National Park is best known for its waterfalls, deep valleys and picture-perfect landscapes. Visit Glacier Point for the best view of the park.
Lake Tahoe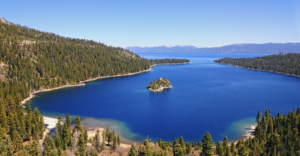 Famed for its natural beauty and nestled within the Sierra Nevada Mountains, Lake Tahoe straddles the California/Nevada border and is the largest alpine lake in North America. This hot spot offers year-round entertainment, from
canoeing across the lake itself to skiing.
Griffith Observatory, Los Angeles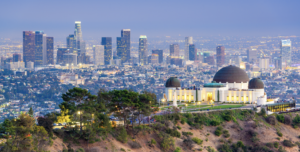 A great vantage point in LA, the Griffith Observatory boasts the best view of the Hollywood sign, stargazing, and live shows in the Samuel Oschin Planetarium. 
This article was originally published in January 2018's issue of Business Airport International. Vew the article in its original format here.