Words by Rob Coppinger
Business aviation's medical services have come sharply into focus with the Covid-19 pandemic, presenting issues for normal passenger operations, medical supplies and patient transport. The infectiousness of Covid-19 has required the adoption of more stringent practices including the use of isolation units. 
"It goes without saying that the procurement of necessary isolation units has multiplied as the pandemic has spread. The delivery times of the units, which are currently six to eight weeks shows this," says FAI Aviation Group air ambulance division head, Volker Lemke. Headquartered at Albrecht Duerer International Airport in Nuremberg, Germany, FAI Aviation Group has an air ambulance fleet of 26 aircraft, including six Bombardier Global Expresses, one Bombardier Challenger 850 and 12 Learjet 60s.
That delivery time of six to eight weeks can be understood when Ellen Cathrine Andersen, CEO of Norwegian isolation pod company, EpiGuard describes the rise in demand for its product the company has experienced. "We have seen a 20-fold increase in the sales of EpiShuttle isolation pods. Transport has been an important part of the pandemic response, and the EpiShuttle has enabled air transport of Covid-19 patients," Andersen says. EpiShuttle was developed by clinical experts with first-hand experience in transporting patients with highly infectious diseases, such as Ebola.
Before the Covid-19 pandemic Lemke points out that the highest quality of medical care, flexible and experienced operations, repatriations, medical evacuations and complex logistics systems were always part of medical aviation. However, a new trend is the use of health apps. In June, medical and security risk specialist MedAire launched an app that enables cabin crews to capture medical information about passengers. With the app, vital signs can be transmitted to MedAire's medical advisory service, MedLink.
Then in August Medaire launched FlightReady, which provides the diagnostic tools a crew needs to implement Covid-19 health screening, with a computer-based dashboard of the screenings as they are processed, whether it is passengers or crew being screened. All these isolation pods, apps and computer-based screening equipment, "must be viewed as an additional cost, but only account for a fraction of the aircraft's cost," Lemke points out. 
Taking temperatures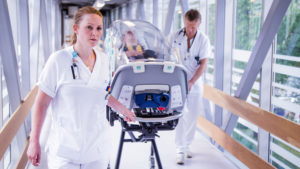 Private jet charter specialist Vistajet has taken the step of checking the crew for signs of the Covid-19 virus twice a day. Digital thermometers are stocked onboard all Vistajet aircraft so the crew, who wear protective masks and gloves, can register their temperature and immediately report to operations if it is above 37.5˚C. "If there is any doubt as to their health, VistaJet will take them out of service until cleared by a certified professional," the company says. Handshake greetings have been forbidden and the company has also reduced the number of people interacting with the aircraft. And, it says, every effort is taken "to assign a single set of crew to a single aircraft over their full 17-day rotation."
An isolation pod onboard the aircraft protects the crew from pathogens, whether they are microorganisms, chemicals or even radioactive particles. There are two ways of installing an EpiShuttle pod – it can be strapped directly to the L-tracks on the floor of an aircraft or it can be secured to a stretcher system, such as those used in an air ambulance. Except for the fixture system, there are no additional costs for carrying a pod. 
Germany's DRF Luftrettung air rescue service bought an EpiShuttle pod to transport Covid-19 patients from Italy and France to intensive care units in German hospitals. After an Epishuttle pod is mounted to a cargo stretcher it is attached to a special base unit. This base unit supplies oxygen and electrical power to operate the isolation pod. A fan with absorbent filters ensures the cleanliness of the air in the pod system and isolates the interior from the outside. Access to the patient is through glove-ports and medical equipment ports. It is mandatory for operators using the isolation pods to have training.
The flight crew need to learn the fixture mounting routines and the basic operating features of the isolation shell. Andersen says, "As with many other medical products, we consider use to be safe as long as the user is trained." 
Lemke adds, "Patient evacuation procedures can be managed with clear processes and training. The same applies to a 120kg ventilated intensive care patient."
Safety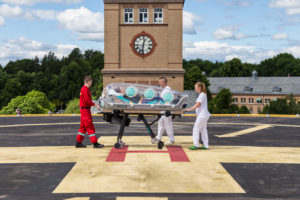 The UK-based Health Service Journal reported in July that the country's National Health Service had bought isolation pods, spending hundreds of thousands of pounds on them, but did not use them because they were scared they might explode. Lemke has no safety concerns about isolation pods. "For complex intensive care patients and for long-haul trips an isolation pod is by far the best solution," he says, pointing to the hard-shell version of Epishuttle as the best product on the market in his view. He does cite alternate, "soft," isolation systems which are sometimes more suitable for specific flights where cabin space is an issue and something smaller is required. 
Andersen acknowledges the soft top products and points to what she sees as their weaknesses as, "less treatment options without the same safety profile." But she recognizes that of the other patient isolation units on the market, most of them are soft tent-like structures. Before the use of any isolation pod, soft or hard, the start of any journey for the infected person is about finding a way to confine them, perhaps in a separate room. 
"The problem with the isolation of a person in an airport," Andersen explains, "is that the transportation from the origin point, where the person is when the decision is made that they are infected, to being isolated is difficult without contaminating the surroundings and other people." Using an EpiShuttle the individual can be isolated immediately and moved out of the public area with complete safety and without fear of contaminating crew or other passengers. 
An alternative approach for tackling the point of origin question is to use an isolation chamber. Mobile and able to be set up in different locations, the personnel working with the tent-like chamber still use PPE. The chambers can be custom-made for aircraft as they are often large and expensive structures. These aircraft isolation chambers are meant for isolating patients and personnel in the same space. Isolation in the actual aircraft would need to use some kind of pod, depending on the pathogen in question, whether it is Covid-19 or something in the future.
Lemke is clear about the best method to transfer the infected person, "Without question, the use of an isolation unit is the safest method for medical and flight crew to transport a Covid positive patient." He does add that when the patient is stable, without complicated underlying conditions, a pod is not needed for short distances. If the use of personal protective equipment can be guaranteed at all times, that hygiene system, and appropriate distancing can be adequate. 
Looking back, Andersen sees a world before Covid-19 where "contamination was far less of a factor when planning air ambulance missions, both scheduled and emergency. However, in our opinion, infections and cross-contamination was almost neglected and should have been addressed to a larger extent." Andersen saw anti-microbial resistance and viral infections as huge problems before the global epidemic, adding, "We hope that the enhanced focus on infection control during the Covid-19 pandemic will lead to a better routines and better understanding of the field."
In late March, FAI Group's Covid-19 response fleet was operating at maximum capacity, averaging around six missions per day. All of its medevac missions were accompanied by a trained medical team, for pre-flight temperature screening, and to provide inflight medical and / or nursing care, as required. Lemke is proud of the way his company, and business aviation more widely, has reacted to Coronavirus. "FAI was the pioneer in rolling out Covid-19 aeromedical transport capability at the earliest time even before the devastating extent of the pandemic was fully appreciated," he said. 
Andersen agrees that industry has responded well and is stepping up to meet the demand while Covid-19 persists. "We are very proud of how our company managed to re-organise and push our supply chain to the limit in order to meet the enhanced demand for EpiShuttles during the pandemic."