The impact of Covid-19 on the fuel market has been pronounced, but the virus could also spur a move to more sustainable sources of fuel.
Although activity has bounced back from the lows of late April and early May, the level of activity in business aviation is still significantly below 2019's.  
C.R. Sincock II, executive vice president of Avfuel is anticipating a gradual rise in business aviation activity as uncertainty over the future decreases, as long as there is not a significant second wave of coronavirus cases: "In 2021, as vaccines begin to reach a large percentage of the population, we anticipate further growth in business aviation activity, though probably not yet back to 2019's record levels. The economy will determine what those activity levels will be for our industry.
"But our industry supports some of the most critical infrastructure worldwide. Its necessity is beyond refute and we can be confident business will return."
Unsurprisingly, Avfuel felt the effects of the pandemic immediately, with a severe reduction in airline fuel sales, flight hours, FBO activity and crude oil prices. Like most, day-to-day operations were adapted to maintain business continuity and ensure health and safety. For many people this meant working from home – while others kept the
fuel flowing. 
Sincock says, "Early on in the pandemic, we actually found it easier to supply fuel for our customers. Because of the lower demand, it was easier to source the fuel and for the hauler to transport it. As demand started to pick up however, refineries weren't running at full capacity and so sourcing became a bit more difficult. But that's where we shine — handling the logistics to get people fuel where and when they need it."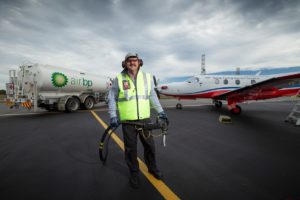 Avfuel also leveraged its size and role in the sector to help others in a number of ways: helping industry organizations educate customers about the need for reduced operations and decommissioning fuel equipment, assisting with PPE shortages, waiving fees for its online FAA-approved Part 139 courses in fuel safety, releasing scholarships early, protecting tier status for members of its loyalty program, offering complimentary consultations via its trip planning division and communicating the latest information about the crisis to its customers.
It was a similar situation with another major fuel supplier, Air bp, which provided support through a number of initiatives around the world, including giving PPE to medical services in Australia and donating fuel to Aviation Sans Frontières to support the transport of medical staff and equipment in France. In the UK the company donated fuel to air ambulance services and in the USA to FedEx and Alaska Airlines to support the delivery of medical supplies and essential goods. In China, its South China Blue Sky joint venture fuelled more than 800 epidemic relief and repatriation flights. Jon Platt, CEO of Air bp says, "We were pleased to play our part in supporting our communities during these difficult times. Our commitment to safe, reliable fuelling operations remains unwavering and we're grateful for the hard work of our front-line Air bp operators who continue to enable us to meet the needs of our customers."
Market effect
Covid-19 has disrupted the aviation fuel market significantly.  Despite dropping in recent months, supply is still outpacing demand, leading to a dramatic drop in oil prices. According to the USA's Energy Information Administration (EIA), Brent crude oil averaged just US$18 / barrel in April, a US$13 / barrel drop from March. In January, Brent crude oil averaged US$64 / barrel. 
A decline in production is expected for 2020 as a whole, accompanied by an even larger decline in demand, an increase in inventories and continued price weakness, perhaps averaging out to just US$41 / barrel according to the EIA. Next year, analysts predict a rebound in demand and a decline in inventories, with fuel prices averaging US$50 / barrel.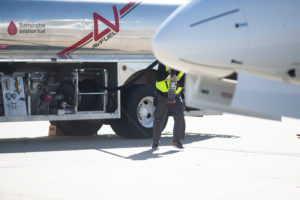 Avfuel mostly agrees with these assessments, with the caveat that there is still a lot of volatility in projections. Sincock says, "Over the longer term, analysts are beginning to worry that there may actually be a chronic under investment in crude oil and refining infrastructure. This would eventually lead to under supply relative to demand as the economy recovers, making prices skyrocket.  
"We have seen growing interest from our customers in fixed forward pricing contracts, where we agree to supply a fixed amount of fuel to a customer over a set period of time at a fixed price. These fixed price contracts are a way for customers to protect themselves from possible price spikes, while simultaneously providing complete visibility into one of their largest variable costs for the years ahead."
One of the largest factors affecting the price of aviation fuel is fluctuating market demand for fuel from commercial aviation, which directly affects business aviation costs. Commercial aviation is a large driver of jet fuel demand for the industry, so as demand decreases, so do jet fuel prices. With a decline in fuel prices, airports and FBOs resort to other services to recoup lost profits, such as ramp / handling fees. "We're seeing an increase in flowage and storage fees as a direct result of decreased airport fuel volume," says Sincock. 
"These are costs that are often passed down to the end user in some way or another — including business aviation operators in the end."
"We expect that as business aviation bounces back, fuel prices will slowly increase as supply and demand return to a semblance of balance and inventories begin to draw."
Sustainable aviation fuel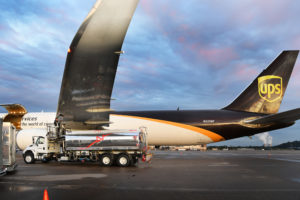 Avfuel has experienced interest in the use of Sustainable Aviation Fuel (SAF) from business aviation operators, airports and maintenance stakeholders during the Covid-19 pandemic. Many companies may be using the pause to evaluate how to incorporate their operations and CO2 emissions into their sustainability platform and reporting metrics. In Europe this is being driven by the implementation of CORSIA and the role that sustainable aviation fuel can play in reducing CO2 emissions along with other market-based measures, such as purchasing carbon offsets.
However, Sincock again points to commercial airline's role in the aviation fuel market's future: "The uptake of SAF by these carriers may be delayed until their balance sheets improve. Since they account for a large portion of global jet fuel demand, this could slow SAF adoption. 
"Business aviation accounts for approximately 5% of global jet fuel demand. SAF can be adopted by business aviation operators as they face pressure to adopt sustainability metrics to reduce their CO2 emissions.  
"The sector can play a role in leading SAF uptake forward. There is also the option of purchasing carbon credits to offset emissions from their flights. At Avfuel, we approach sustainability by bringing these two offerings to the table and deploying them in the appropriate situations for our customers."
Sustainable market matures
An indication that in longer term the deployment of SAF will not be harmed by Covid-19 is the continued launch of projects to build production plants for sustainable aviation fuel. Two new plants were launched during the last few months. The Velocys plant being built in the UK is one of several next generation facilities that will produce SAF suitable for use in business jets and larger turboprops. British Airways is a partner in Velocys, so its focus to date has been on commercial aviation. However, Neville Hargreaves, vice president of waste to fuels at Velocys agrees that business aviation could become an early adopter of SAF.
"Business aviation could be a valuable enabler in the development of the SAF industry. The key will be whether the contract requirements of producers and distributors and customers can be aligned. New fuel plants will need stable, committed offtake in order to finance their projects."
Hargreaves also believes the Covid-19 pandemic will not impact the roll out of SAF. "The industry will restart and with it the momentum for cleaner skies experienced of late. SAF has a critical role to play in this recovery, which needs to be green if we are to achieve net zero goals.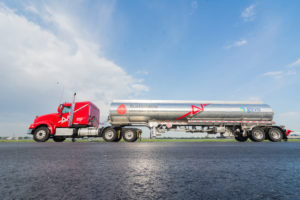 Meanwhile in the USA, Lanzajet, a subsidiary of sustainable New Zealand-based fuel developer Lanzatech, has announced the construction of a demonstration SAF plant in Georgia that will be operational by early 2022. The demonstration plant is being backed by investors who have earmarked funds to follow it with the construction of commercial-scale plants, building up to a production capacity of 100 million gallons of predominantly SAF by 2025. The company expects to break ground on the first demo plant at the end of this year. 
Jimmy Samartzis, CEO of Lanzajet says, "The mechanism we are using to commercialize the technology represents a significant investment. We have worked with aircraft manufacturers and our drop-in SAF was approved by the ASTM in 2018, so its ready for the market.
"For aviation of any kind to continue to see the success it expects around the globe, SAF will be a key component."