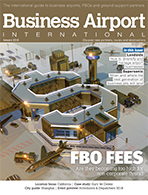 The January 2018 issue is now available online! Packed full of news, interviews and features, including:
DATA DEADLINE : Business aviation gets ready to meet the requirements of the new European General Data Protection Regulation, which comes into effect in March.
FRINGE BENEFITS : Airports are increasingly using landside businesses to help boost airport income, with the likes of golf courses, schools and retail outlets all fitting the bill.
VOICE OF EXPERIENCE : BAI talks to Ed Bolen, president and CEO of the NBAA about his views on the year ahead, the need to attract talent into the sector and supersonic jets.