Galaxy FBO recently opened a US$20 million corporate and general aviation facility at Houston William P. Hobby Airport in Texas.
The opening of the facility, which consists of a two-story 23,000ft2 building and two 38,000ft2 hangars means Houston Hobby Airport, which also handles international and domestic commercial airlines, is now served by six FBOs. This time-lapse video shows how the newest FBO was built. 
Offices and lounges
The new Galaxy FBO occupies a total of 19 acres in the south section of Hobby Airport at the end of Runway 4, with access from taxi-way K, between the Southwest Airline maintenance hangars and the US Customs office, at 8912 Paul B. Koonce Street.
The terminal building has access to nine acres of ramp, pilot and passenger lounges, concierge, snooze rooms, shower facilities, four conference rooms, on-site car rental and crew cars.
Tony Wright, general manager of Galaxy FBO said, "The new facility will provide visitors with an impressive gateway to Houston and a great experience for flight crews. When it reaches its full capacity, Galaxy FBO is expected to add over 30 new hires to our workforce".
Galaxy FBO occupies half of the first floor of the building, including the pilot and VIP lounges. The rest of the facility is serving as the new headquarters for Wing Aviation, sister company to Galaxy FBO and one of the largest private aircraft management and charter operators in Texas. 
Wing Aviation is running its charter operations from the offices in the building while its clients have access to the new 1,300ft2 "Voyager Lounge". More than a hundred Wing personnel will be based at the new facility to support its flight operations, including sales, accounting, dispatch, maintenance and flight crew.
Space and usability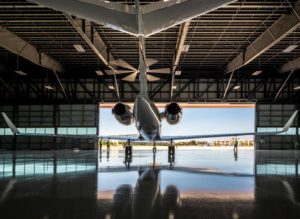 The new FBO also offers over 2,000ft2 of additional turn-key office space available for lease to aviation-related businesses.
The two identical hangars at the FBO have a 28ft high and 245ft wide door clearance. Additional parking, storage and office space adjacent to the hangars is also available for lease to prospective aviation-related tenants. 
According to Haydar Kustu, director of business development and marketing at Hobby FBO's parent company Black Forest Ventures, the focus for the design of the FBO was its usability: "We pushed to keep every different guest-use case in mind. Much of the facility is aimed to create a home for our based aircraft, and an at home feel for our transient passenger and flight crew guests. 
"Close proximity to US Customs is also an advantage for international arrivals with no runway crossings required to get quickly to our facility. Our large ramp space enables easy aircraft movements and provides fast turnarounds for flight operations, which equates to tangible time savings for both passengers and flight crew."
Expansion and construction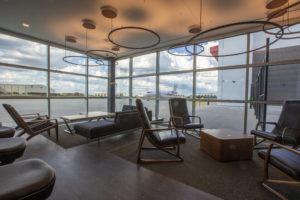 Galaxy FBO, which was launched in 2006 also has an FBO at Conroe North Houston Regional Airport to the north of the city and operates a heliport in the same area at The Woodlands, Texas. 
Houston's Hobby Airport sees the company expand into one of the USA's busiest business aviation hubs in the south of the city. Hobby Airport handled almost 80,000 business and general aviation flights last year. 
Kustu says, "Houston Hobby Airport is a busy and very competitive field for corporate aviation. While there are a number of established fixed based operations on the field, the airport lacked new facilities, ample aircraft storage and proper ramp space. We wanted to design the next generation FBO from a clean-sheet idea.
"Our clean-sheet facility design, combined with our great amenities and our location on the airfield provide us advantages, but our people make the biggest difference. Galaxy FBO customer service representatives provide exceptional concierge service before, during and after the flight."
Construction of the FBO was not without its challenges and the opening was complicated by the Covid-19 pandemic. Kustu says, "With our first FBO established in North Houston, we wanted to expand our reputation to offer a premium FBO experience with value throughout the Greater Houston Market. 
"Our first location at Conroe North Houston Regional Airport was a similarly sized project. We faced unexpected challenges with the groundwork on the construction site at Hobby Airport, which impacted the timeline and of course the global coronavirus pandemic also put a wrench in our overall
grand-opening game plans."
Galaxy FBO also broke ground at another, third location in Dallas, Texas earlier this year. The FBO at Addison Airport is planned to be opened for business during Summer 2021. 
"We'd like to be the premium FBO in Texas – and beyond," says Kustu. "With the completion of our Texas-based operations, we'd like to expand our high quality services in other states and regions.
Covid-19 challenges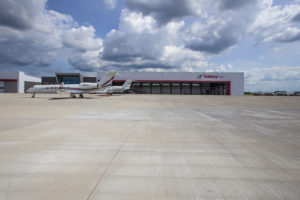 Galaxy FBO has used guidance from the Centers for Disease Control and Prevention, Federal Aviation Administration, International Civil Aviation Organization and National Business Aviation Association to form its Covid-19 protocols. The company also actively monitors local and international authorities to adapt to the changeable situation.
Kustu says, "We've always been obsessed about clean and safe operations. From ramp to clear skies, the safety of our clients and our staff has always been our top priority. 
"But we never anticipated opening a new facility during a global pandemic. We had to develop our own Covid-19 protocols that outline all customer interactions, facility usage and more. We've implemented strict measures to help stop spreading Coronavirus at our Houston Hobby Airport and Conroe North facilities."